T Thai
102 Hudson St, Hoboken, NJ 07030
Order now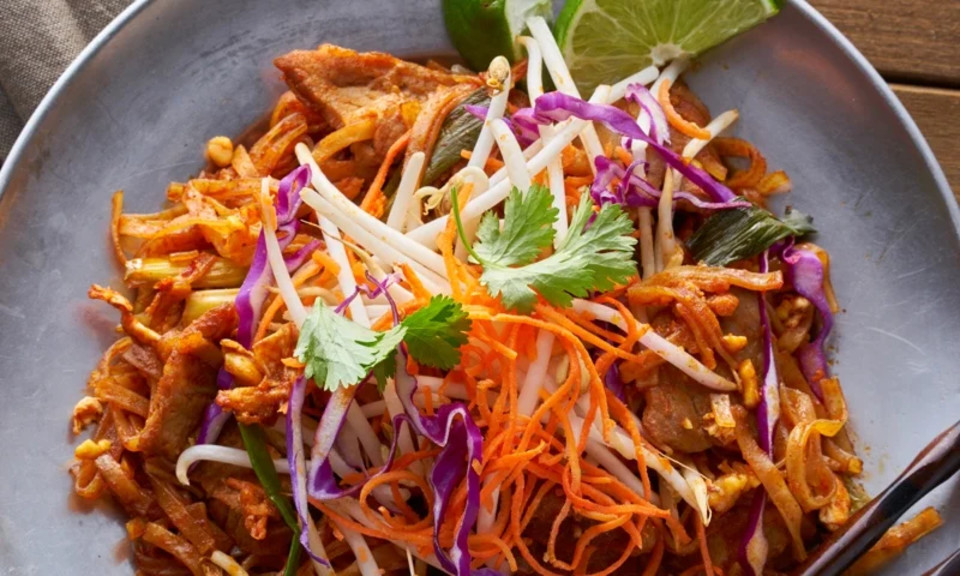 Kay
Super fresh veg, nice deep flavor, you can tell the cooks care for the quality of the dishes. I'd take half a star if I could for $$ delivery fee (4 bucks) but it is worth it.
Lisa
I love T Thai! Highly recommend the duck pad thai, coconut chicken soup I to-die-for and the coconut rice is a staple side dish. Tried and true.
Jennifer
great pad thai and thai iced tea delivered, and their soup was amazing! (I can't recall the name but it's a creamy chicken soup)
Sumnesh
We asked for No Shrimp in the soup for my wife as she is allergic to sea food. However our instructions we not followed.
Thomas
The website tracker said delivered before the food actually made it to me, which gave me a scare
Megan
I ordered from here because my usual Thai place is closed on Tuesdays, and they exceeded my expectations! The food arrived in about 20 minutes and everything was fresh and delicious. I ordered the "side" salad which was a really good size and filled with a variety of fresh veggies and yummy peanut dressing. The pad Thai was also delicious and actually tasted "healthy", as in not greasy, with lots of good flavors. I will definitely order from here again!
Attila
Good food, EXCELLENT delivery. When seamless updated their website they deleted my apartment number (yay for web design) and so the driver needed to call me. Unfortunately, my phone died and the driver wasn't able to reach me. When I finally noticed my dead phone I called the driver back and he came back to apartment within minutes. I was very impressed.
Eliza
I LOVE their tom kah kai. The pad thai is sweet and sour - a little extra on the sweet side sometimes (I like it that way). The young coconut water is refreshing. Not sure I'll get the dumplings again. They seemed overcooked and, while I loved the dipping sauce, the dumplings themselves didn't have a lot of flavor. T Thai is consistently good.
Emily
I ordered delivery from T Thai after getting home late from work one evening. They deliver on time to the window they gave me. The spicy Noodle w/Seafood and it was excellent. It contained a lot of calamari and shrimp and just the right amount of vegetables. Delicious and just what I needed on a winter night!
Nora
Best Asian delivery in Hoboken bar none. Not even close. Curries are great. Noodles are great (especially glass noodles). Protein dishes are excellent (a chicken fish plus extra chicken is easily entree enough for two people). Everything fresh. Delivery is efficient. Prices are fair.
About us
Asian, Dinner, Noodles, Thai
Today

Delivery: 12:00 PM - 8:45 PM

Takeout: 11:30 AM - 9:30 PM

Delivery

Monday:

11:30 AM - 8:45 PM

Tuesday:

11:30 AM - 8:45 PM

Wednesday:

11:30 AM - 8:45 PM

Thursday:

11:30 AM - 8:45 PM

Friday:

11:30 AM - 8:45 PM

Saturday:

12:00 PM - 8:45 PM

Sunday:

12:00 PM - 8:45 PM

Takeout

Monday:

11:30 AM - 9:30 PM

Tuesday:

11:30 AM - 9:30 PM

Wednesday:

11:30 AM - 9:30 PM

Thursday:

11:30 AM - 9:30 PM

Friday:

11:30 AM - 9:30 PM

Saturday:

12:00 PM - 10:00 PM

Sunday:

12:00 PM - 9:30 PM